INTRODUCING SYCAMORE ORLANDO RESORT, ORLANDO'S NEWEST CONDO-HOTEL
Sycamore Orlando Resort is comprised of upscale concept luxury apartments located 5 minutes from Walt Disney World and close to everything that makes Orlando great: SeaWorld, Universal Studios, Blizzard Beach, Typhoon Lagoon and Volcano Bay water parks, world-class sports facilities at the ESPN Wide World of Sports Complex, and hundreds of dining, shopping, and entertainment venues. Orlando International Airport is under 30 minutes' drive.
The Resort is being built on 9.8-acres and will consist of 6 towers each with 7 floors. There will be 8 – 10 condo hotel units per floor for a total of 378 apartments, including 1-, 2- and 3-bedroom suites.
Sycamore Orlando Resort is designed to fully meet all the needs of guests coming to Orlando for business or for sightseeing. An apartment at Sycamore Resort is synonymous with quality and comfort.
The Sycamore Resort has the lowest maintenance cost on the market of Orlando vacation rentals and features 4-star hotel services with the best online rental platforms to deliver high occupancy rates and the best return on your investment.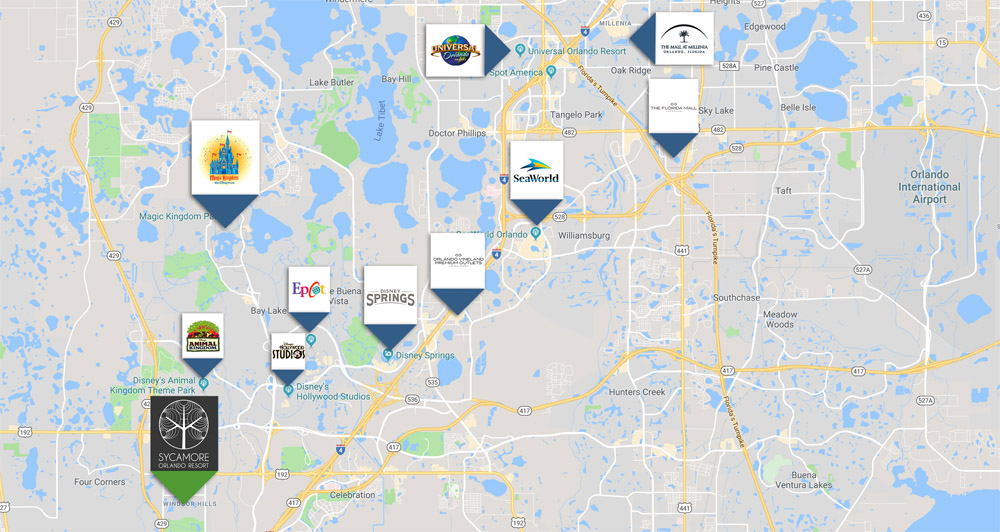 REASONS TO BUY:
The capital of theme parks, Orlando, is one of the fastest growing regions in Florida. Lying close to the most famous theme parks in the country, with over 72 million visitors a year, Orlando is the number one family tourist destination in the United States (with world-class entertainment, hospitality, sports, and conference facilities) and has experienced strong job creation over the past two decades.
GUARANTEED 10% LEASEBACK FOR 1 YEAR
NATIONAL GREEN BUILDING STANDARD™ CERTIFICATION
GREAT LOCATION
PET FRIENDLY
SPACIOUS AND COMFORTABLE APARTAMENTS
ADA (AMERICANS WITH DISABILITIES ACT) UNITS AVAILABLE
4 STAR HOTEL SERVICES
25,000 SF OF COMPLETE ENTERTAINMENT AREA ON THREE FLOORS
2 ACRES OUTDOOR AREA
HIGH ESTIMATED RETURN
CONVENTION CENTER
LOWER OPERATIONAL COSTS
DEVELOPER:
A company with over 18 years of experience and credibility, Primeland Real Estate Development and Finance Express has as its objective to deliver projects with luxurious finishes and differentiated design, which offers the investor a profitable operation.
BUILDERS: A projekt kivitelezője SDC CONSTRUCTION és RLH CONSTRUCTION 
ARCHITECT: BUMPUS AND ASSOCIATES, INC.
AMENITIES::
SYCAMORE CLUB will feature over 25,000 square feet on 3 floors with many entertainment spaces that include:
Gastronomy: 4 restaurants (including oriental cuisine, vegan, kosher), bakery, convenience store
Sports: fitness center, resort-style pools, tennis court, dance classes
Entertainment: sports bar, rooftop bar, tikki bar
Kid's Club: game room, art room, trampoline, movie space
Convention center: corporate events, training center, wedding venue, business center
Well-being: Spa/sauna, hair and nail salon, barber shop
Pet friendly resort: pet hotel, dog park
4-star hospitality services
Concierge services 24/7
24-hour reception
Daily room service
Shuttle services to Disney and Airport
CONSTRUCTION SCHEDULE:
Building A - March 2024
Building F - May 2024
Building B and E – Summer 2024
Building C and D – December 2024
FLOORPLANS:
The impressive 1,2, and 3-bedroom apartments provide the perfect balance of sophistication and comfort. Each floorplan has contemporary inspiration with the best interior features and finishes. They will be delivered fully furnished and decorated to the highest standards of luxury and comfort.
PALM | 1 BEDROOM | 1 BATH | 684 SQ.FT | Accommodates up to 4-6 people | 
OAKTREE | 2 BEDROOMS | 2 BATHS | 1,237 SQ.FT2 | Accommodates up to 6-8 people | 
CEDAR | 3 BEDROOMS | 3 BATHS | 1,480 SQ.FT | Accommodates up to 8-10 people |  
FURNITURE PACKAGE:
When you purchase the Furniture Package, the property is entirely turnkey. The turnkey package includes all furniture, stainless steel appliances, TVs, washer/dryer, kitchen utensils, window treatments, artwork, linens, and more. The cost of furnishing is not included in the purchase price.
1 bedroom apartman: 30.000 USD
2 bedrooms apartman: 40.000 USD
3 bedrooms apartman: 45.000 USD
All the furnishing are hospitality grade with 7 years warranty. The textile replacement is schedule to happen in 5 years for the optimization and quality.


SITE PLAN:
PHASE 1: Building A and F
PHASE 2: Building B and E 
PHASE 3: Building C and D 
Unit pricing are subject to change without notice. For updated inventory and current prices, please contact me.
GUARANTEED 10% LEASEBACK PROGRAM
TERM: 10% on purchase price for 1 year after closing. If profits are higher than 10% the owner gets the additional profits.
OWNER USAGE: 15 days per year, blocked months are January, July, December. The owner will only pay the amount of $200 - for the use of common areas and amenities (paid proportionally to the 30-day use).
MONTHY HOA DUES (Home Owners' Association): $480/month
SERVICES INCLUDED IN HOA:
Electric Service
Water/Sewer Service
Pest Control
Exterior Building Insurance
Telefon Service
High Speed Internet Service
Cable Television Service
Ground Maintenance
ANNUAL ASSESSMENTS: $960
Insurance and maintenance of the exterior of the building, hallways, stairways and gardening.
STANDARD RENTAL PROGRAM AFTER LEASEBACK:
The owner will continue the rental process, but there is no longer a guaranteed profitability. Sycamore will continue to focus on marketing services and securing rentals for the owner to maximize profitability.
The owner may use his property up to 60 days per year; no blocked months - 65% revenue split to owner
A tulajdonos 65%-ban részesedik a bevételből.
HOA: $480, paid by the owner
Property tax and content insurance are the owner's responsibility.
RENTAL ESTIMATES 2 bedrooms apartman
You are invited to be part of this success story!